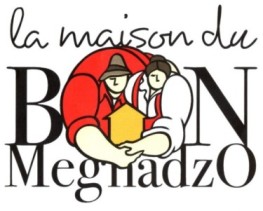 Welcome
We're pleased to have you in our web site and in our new business. Our names are Erik & Elisa and we live in Doues, a small village of the Valle D'Aosta (IT) situated in a peaceful and friendly zone between Gran San Bernardo Valley and Valpelline - Bionaz Vallley, only 9 km far from Aosta City Centre. We decide to live this Adventure together, opening a Bed & Breakfast (we call it "Chambre d'Hotes") where once was the famous Restaurant LO BON MEGNADZO, properties of Erik's parents. When the Restaurant closed, we decide to create a new kind of Accomodation, entirely managed by our family. We create 6 rooms which are the perfect agreement between Folk & Traditional Style and Original & Modern Comfort. Each Room respond to a specific natural and traditional ambient: The Stable, The Hayloft, The Oven, ect…. Each Room has personal Television, Safe, Mini-Frigo and Wi-fi Connection to Internet. From all our Rooms you can enjoy beautiful Landscape over the Valley. Four of our Rooms have a balcony and two have an Hydromass-Shower. At you service even a commonTV Room and a Small Library. Just in nearness of the Structure you can find free parking. You can also have fun or relax in our open-air places with games , tables, chairs and deckchairs. We have a big green Area with games for children, that sounds perfect for family holidays.
We offer you a Traditional Breakfast , homely fare. Our Guests have also the possibility to stay in one of our two beautiful apartments, completely furnished and with a personal Kitchen. In the Nearness of our Structure you can decide to take a trip in the Mountain , by walk or cycling, following the several paths made for all levels of Phisical preparation to Beginners from Expert. The amazing place where we live is not yet Well-Known by Tourists who visit Valle D'Aosta but offer the possibility to discover Beautiful Landscape which are considerated real Wonders of Nature. In the East is situated the "Conca" and "Col du Champillon" (2500 mt high); in the west the "Conca di By" and "Col Fenetre", nearby the Swiss' frontier. All these beautiful places are also easily accessible by Family with babies and Seniors. Snow parks are situated near to Our Chambre d'Hotes, in the areas of Saint Rhemy –en-Bosses and Saint-Oyen, in the Gran San Bernardo Valley or ih the areas of .Bionaz and Ollomont in the Valpelline Valley. In the Bionaz Valley you can visit the "Diga di Place Moulin" of the greatest dikes in Europe. Start to walking and cycling touring. We try to do the best to create our Chambre d'Hotes. Half of the Structure has been totally re-built by ourself. We have worked with the power of our hands and our great passion.

Hope you come to enjoy us
See you soon
Erik, Elisa and Fabien The Baby.